Drain Cleaning
North West Drain Cleaners currently have 2 High Pressure Jetting Machines:
1x 70 liter per minute at 220 bar pressure
Unblocks and cleans out sewer lines as well as storm water lines up to 400mm
This unit is on a 2 ton truck and has a 1000 liter water tank.

1x 95 Liter per minute at 280 Bar Pressure (US Jetter 4025)
Unblocks and cleans out sewer lines as well as storm water lines up to 900mm
This unit is on an Isuzu 400 truck and has a 2850 liter water tank.
This type of unit can also be seen on www.usjetting.com
Nozzles are an integral part of any high pressure unit. Changing a nozzle can change the unit entirely. Knowing which nozzle to use and when, is based on what size pipes are being worked in and what debris is in the pipe. Cleaning, cutting and washing are all jobs that nozzles can perform.
Both these units operate on the high pressure low flow principle which is very suitable for South African conditions as we are an arid country with limited water resources, higher volume are more cumbersome and time consuming. High volume jetting is more suitable as a 'flush' for larger storm water pipes with heavy sand and debris.
Jetting Unit in Action
Jetting Unit on Isuzu 400
Second Jetting Unit
Vacuum Cleaning
North West Drain Cleaners currently has an 115kw vacuum unit which can suck up muck and sand from a depth of 12m below natural ground level. It has a 5 000 liter debris tank which can tip for easy cleaning. The vacuum unit is on a trailer and can therefore be coupled to a 14 000 liter tanker when sludge is removed, as the sludge drains from a normal gravity feed tank.
Vacuum Unit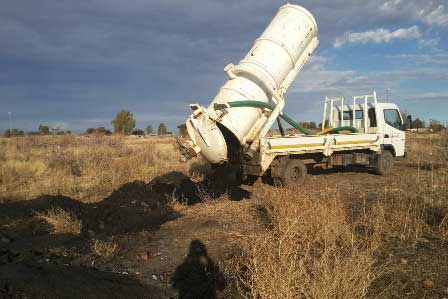 Vacuum Unit
Cleaning of 11.5m PST's at Ferrobank Water Treatment Plant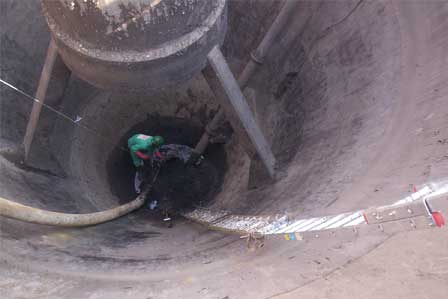 Sewer Tanking Services
North West Drain Cleaners currently has two tankers, a stainless steel tanker which hold 10 000 liters and a mild steel tanker which hold 12 500 liters. Both tankers were recently refurbished and are in an excellent condition.
Tanker
Gorman Rupp T6 with 3 cylinder diesel engine, on wheels with 150mm coupling hoses.